The Best Floor Lamp for Home Office: A Buying Guide
Do you have a difficult time seeing what's on your computer screen? Do you feel like the light in your office is never quite bright enough? Maybe you are over the harsh yellow light and want something that is closer to natural light. If so, then it might be time to invest in the best floor lamp for home office.
A good floor light for your home office can provide you with plenty of light, making it easier for you to see what's on your screen and work more productively.
In this buying guide, we will take a look at four models that have a shot at being the top floor lamp for home office. We will discuss the features of each light and help you decide which one is the best fit for your office!
Before Buying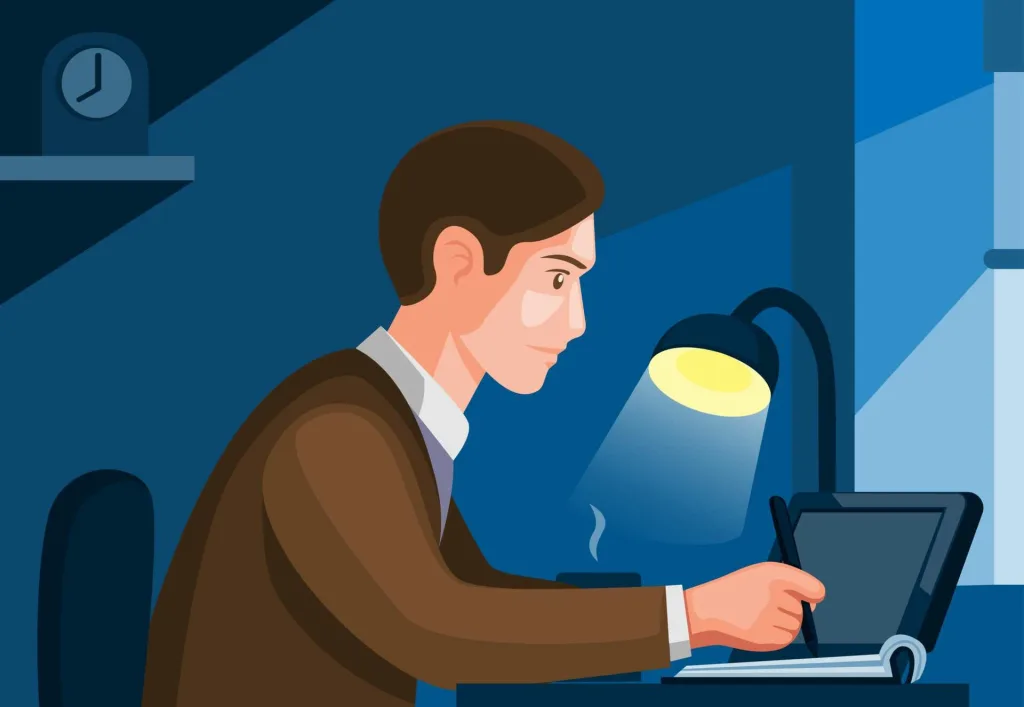 There are many factors to consider when purchasing a floor lamp for office use. Some of the most important include:
While many of us would love a windowless office with a natural source of light, this is not always a realistic possibility. Instead, we must rely on overhead fixtures or self-standing floor lamps. We believe that the best floor lamps for office lighting are the better choice since they require less hassle and less work on your part.
Now, let us get into our reviews for the best floor lamp for the home office!
Best Floor Lamp for Home Office: Review
Basic Information
The first light we will discuss is the Joofo Floor Lamp (30W/2400LM Sky LED Modern Torchiere).
This light has a modern design and is made of aluminum, paired together with a stable base and multiple adjustability functions.
This flashlight can work as an overhead light without having to be installed like traditional overhead lighting (such as a light fixture, light bulb, and others). It has three color settings which range from 3000K to 5000K – warm white, natural white, and cool white – so you can choose the perfect light for your needs.
The remote control has a range of about 10m (33 ft), which will make it easy to adjust the lamp as the evening goes on without the need to leave your comfy sofa.
The Joofo floor light only comes with a six-foot plug-in cable, which might cause some problems for those of you who do not have dozens of outlets. Extension cables can be used as a viable solution. It also has a dimming function, so you can adjust the brightness to suit your needs.
LED bulbs are long-lasting and energy efficient, making them a great choice for the office. With a height of over six feet, it's sure to make a statement in any room. The lamp comes in four different colors, including brushed nickel, avocado green, white, and black.
The lamp's price depends on the collar and the wattage you choose, but with a price range from $59 to $69, it isn't too steep.
Additional Features
One of the best things about this light is that it doesn't produce any glare. That means you can use it in any room without having to worry about straining your eyes. It is also a LED light, which means it is very energy-efficient.
The Save Space and Stable Base function of the torches assure you that the flashlight is completely safe to display around children, and even pets, considering the heavy base will keep the ten-pound light from falling over.
The lighted surface can be rotated 350 degrees and can also be tilted to any angle between the floor and the roof – which will help you with your desired adjustments to the lamp's light angle.
Pros
No assembly required
Multiple sizes and color options to choose from
3-year manufacturer's warranty
Best floor lamp for tattooing
Cons
Non-retractable keyboard mount
We think the light is an excellent choice for home office where the ambiance is the number one priority. The endless angles of the lighted surface, the brightness-dimming function, and the lamp's modern, yet simplistic, design make it a preferable choice for any family. It is also considered the best floor lamp for sewing.
Basic Information
This light was made for bibliophiles who enjoy reading during the evening or late hours of the night. The Dimunt LED Floor light provides adequate lighting, with 15 watts of power.
With an included adjustable timer, you can set it to turn off after one hour if you want to conserve energy. The light has different lighting settings, so you can create the perfect ambiance for your office.
It is also remote-controlled, so turning the light off is as easy as the push of a button.
If you're looking for a bright and stylish LED floor light, the Dimunt is a great option. The 15-watt LED light source is equivalent to a 100-watt incandescent bulb, making it plenty bright for most rooms. The light is adjustable from 3000K-6000K, so you can choose the perfect color temperature for your space.
The price is also quite affordable at approximately $40, depending on where you buy it and at which wattage.
Additional Features
The lightcomes with a safe and sturdy base while also boasting a flexible gooseneck that will help you adjust the lighted surface exactly to your liking.
This light is also quite tall, coming in at 59 inches of height, making it perfect for lighting up the whole room if the need arises.
The Dimunt LED Floor Lamp also comes with its own remote and touch control. The remote control distance is on par with the Joofo light at around 10m (33 ft).
Pros
Adjustable shutdown timer
Remote Control
Affordable
Cons
The style might not fit every office perfectly
We think the Dimunt LED floor light is an excellent choice for avid book readers who are tired of insufficient lamps that only strain their eyes unnecessarily. We like the clean and modern design of the Dimunt LED floor lamp. It's available in black or metal, so it will match most decors.
If you are looking for a more colorful option, then the Keepsmile RBG Floor Lamp might be the perfect choice for you.
Basic Information
This light
has two sides, each with its own LED light. The lamp has multiple colors with ten different modes to choose from, so you can really personalize the look of your office. The lights are also dimmable, so you can create the perfect level of lighting for your needs.
Similar to the Dimunt LED Floor Lamp, this one is also remote-controlled. The light comes equipped with four different brightness settings.
Don't let the stark colors fool you—the Keepsmile light has a brightness of about 2600 lumens – which is bright but not strenuous on the eyes. The 350-degree rotatable lighted surface makes it possible for the lamp to light up an entire room, especially considering the lamp is 69 inches tall.
The Keepsmile RGB Floor Lamp is made from high-quality materials and is very sturdy. It's easy to assemble and comes with a user manual. The lamp is also UL-certified, so you know it's safe to use.
The Keepsmile floor lamp, however, isn't the cheapest on the list, coming at around $59.
Additional Features
One of the best things about this lamp is that it's double-sided. This means that you can use it as a reading lamp or a general light source. The two sides of the lamp provide different levels of brightness, so you can adjust it to suit your needs.
The Keepsmile floor lamp also has a memory function that will help you to keep your favorite ambiance setting each and every time.
Pros
Colorful 
Two-sided 
Best floor lamp for sewing crafting
Cons
Might seem too "childish" for a serious office
If you're looking for a stylish and modern floor floor lamp design, the Keepsmile RGB Floor Lamp is a great option. It's easy to use, UL certified, and comes with ten different modes to choose from.
Finally, we have the Lithomy Floor Lamp. This stylish floor lamp will upgrade the decor of your room in no time.
Basic Information
This lamp has four different color settings – warm white, natural white, cool white, and yellow – so you can choose the perfect light for your space. It is also dimmable, so you can create the perfect level of lighting for your needs. The remote control makes it easy to turn the lamp on and off from across the room.
The Lithomy Floor Lamp is an amazing product that has many features to make your life more convenient. The first thing you'll notice about this lamp is its sleek, modern design, which will match any decor.
The lamp has a built-in remote control, so you can adjust the light level and color temperature with ease. There are four different color temperatures, ranging from 3000K to 5500K, so you can create the perfect ambiance for any room.
The LED light is also very energy efficient, so you'll save money on your electric bill each month. The lamp will also save you money when you make the purchase, as it is the second cheapest option on our review list, coming in at $45.
Additional Features
The lamp is constructed from heat-resistant environmentally friendly PVC linen fabric and has a heavy base to make it sturdy around children and pets. The lamp is a 12-watt energy-saving LED that will light up your home for more than 50,000 hours.
The 60-minute timer function is also a godsend for people who tend to fall asleep with the light on. The automatic shutdown setting will turn the light off 60-minutes after setting the timer.
Pros
Fits almost any interior
Very durable
60-minute shutdown timer
Affordable
Best floor lamp for crafting
Cons
Only available in one color
If you're looking for a floor lamp that will add style and convenience to your home, then you need to check out the Lithomy floor lamp, which is one of the best indoor lighting solutions. This lamp is sure to become a favorite in your home.
Best Floor Lamp for Home Office – FAQ
What is the Difference Between a Floor Lamp and a Desk Lamp?
A floor lamp is taller than a desk lamp and is designed to stand on the floor. A desk lamp is shorter and is designed to sit on a table or other surface.
What are the Benefits of Using a LED Floor Lamp?
LED floor lamps are more energy efficient than traditional incandescent or halogen lamps, meaning they use up fewer energy levels than fluorescent lights. They also emit less heat, so they're safer to use in homes with children or pets. LED lamps also last longer than traditional bulbs, so you won't have to replace them as often.
How do I Choose the Right Floor Lamp for my Home?
When choosing the best floor lamp for home office, consider the style of your decor and the function that you need the lamp to perform. If you want a lamp that will provide ambient light, look for one with a dimmer switch. If you need a task light for reading or working, choose a lamp with an adjustable arm or shade.
What are the Different Types of Floor Lamps?
There are many different types of floor lamps available on the market, including traditional, modern, and industrial styles.
Traditional floor lamps are typically made from wood or metal and have a classic design. Modern floor lamps are often made from plastic or steel and have a more contemporary look. Industrial floor lamps are usually made from metal and have a vintage feel.
Are There Different Types of Light?
There are three different types of light – artificial, natural, and LED. Artificial light is created by man-made objects like lamps and light bulbs. Natural light comes from the sun. LED light is a type of artificial light that uses less energy and lasts longer than traditional incandescent bulbs.
Conclusion
So, which is the best floor lamp for a home office? Consider your needs and make a decision based on which features are most important to you. Whatever lamp you choose, we are sure that it will provide you with plenty of light and help you work more productively in your office!